List of Construction Games
Construction games are ideal activities for teams to learn by planning, leadership, team-working etc by practical experience.
For more information on any of our Construction Games click on the relevant link below:
100% Guaranteed!
If the game or training material does not live up to your expectations,
you can return them unused within 10 days, for a full refund on the goods.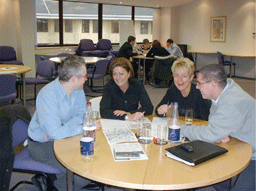 Elite Training European Limited is a leading UK corporate team building games and customer service games, training company. We will be pleased to arrange a business game or team building activities anywhere in the UK or Europe.
We develop and sell a wide range of business simulation games and training material. We also sell selected training materials and games produced by other top training companies that achieve excellent results in our training courses and events.
These training activities like many of the business games we sell, allow you to build your collection of ready-made, trainer-led activities or tailor your own training program. The activities are ideal for your training course, seminar or conference.
To see the other companies that have bought business simulation games from us and their feedback on our services please visit our >> Customers and Feedback Page
Download our Brochures