Corporate Wellness training course for Corporate Health
In addition to making us happier and healthier, there's proven competitive advantage for businesses which develop workplace wellbeing.
Wellness at work is often addressed as a result of a negative financial impact on your business. This might be due to work related stress, a fall in the level of motivation, or a drop in productivity.
This is a great opportunity to address wellness issues within your business, but why wait until you have paid the price for a problem that is easily dealt with?
The benefits that enhanced workplace wellness provides to businesses are so valuable, not only for the health of your staff, but also for the productivity and development of your organisation and, of course, for your bottom line.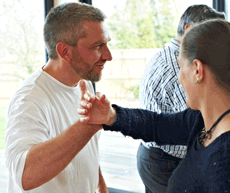 Our Corporate wellness course is unique. It combines techniques that have been developed from trusted movement based practices of the Far East with current scientific understanding that builds trust and understanding.
In this photo John Millar demonstrates how we can create unnecessary focus on minor things, by pushing against them, like an external force (or stressor). 
The objectives of the Corporate Wellness Course training course is to:
explore our comfort zone and understand how it affects our judgements and patterns of behaviour
increase awareness of how our actions and the actions of those we work with can inadvertently limit communication, creativity and innovation
develop and build trust in simple habits that transform our responses and enhance our own potential and the potential of those we work with.
The techniques we use are simple, easily integrated and support on-going change and development.
This one day, experiential course offers groups of 10 to 15 delegates the opportunity to explore skills that can be nurtured and developed in order to make a positive difference for themselves and those that they work with.
Who will benefit?
Employees - helping them recognise and manage their own stresses so they are more effective both in their working life and their personal life
Employers - less working days lost through stress related conditions of their workforce plus greater efficiency of their staff
Customers - dealing with staff who are more focused, controlled and efficient when compared to somebody suffering from stress.
Duration: 1 day
By the end of the Corporate Wellness Course delegates will be able to:
understand both the positive and negative potential of stress
build trusted habits that help diminish our own self-limiting responses
develop methods to enhance communication within our work environments
explore techniques to release greater potential in others and ourselves.
About us
Elite Training European Limited is a leading UK provider of corporate wellness courses.
For over 20 years, we have been delivering excellent management training and personal development skills to businesses and public sector organisations in London and the South East, East Anglia and across the UK. Based in Suffolk means we are within easy travelling distance of Buckinghamshire, Cambridgeshire, Essex, London, Hertfordshire, Kent, Norfolk, Northamptonshire, Surrey and Sussex. We will also arrange a course anywhere in the UK or Europe.
Our courses involve experiential learning with the use of business games and training materials. These activities help participants acquire essential knowledge and skills through active, self-reflective engagement and enable them to remember the key learning points - "What I hear, I forget; what I see, I remember; but what I do, I understand." Confucius 451 BC
In-House Training Courses
Our In-House business training courses mean that we travel to you and save your travel time and costs.
Choose a time and date suitable for you and our high-level tutors with up-to-date, practical experience in this course, will tailor a course to meet your needs.
We guarantee you will enjoy the Corporate Wellness Course and see the benefits for the participants and your organisation.