Training game for Performance Management, Continuous Improvement, Problem Solving, Planning, Teamwork, Communication, Inter-Personal Skills and Team Building.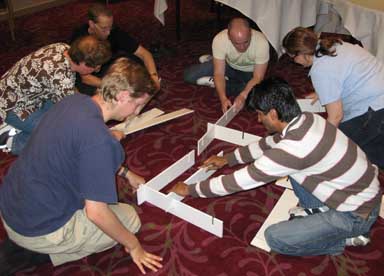 Teams have 14 pieces of plastic shelving with groves cut in various places, which enable them to fit together and make up a display shelf.
They have up to 60 minutes to develop a method of assembly that can produce a finished display shelf in less than 30 seconds.
Teams find it very difficult, but through planning and effective teamwork, it has been done in 15 seconds!
We also provide instructions and team briefing notes to run this activity different ways, including having a planning team and an implementation team. See how well they (should) work together and discover many learning points that can be used in the workplace.
Effective planning, performance management and continuous improvement, teamwork and the ability to work in small sub-groups are essential to be successful.
This training game highlights the importance of individual contributions to group task achievement. It is also very effective for drawing out the characteristics of effective management and leadership.
Fun Training Game
You can also use this as a fun activity by seeing which team can complete it quickest. They will soon learn "More haste, less speed" and "Failing to plan is planning to fail!"
If you think this is easy – you try it. There is a lot to learn from this!

Now available in Large or Tabletop Size
The original large Shelving measures 105 cm x 95 cm and the half-size Tabletop version measures 53 cm x 48 cm. The small shelving is just as challenging, but easier to transport and teams can try it on a smaller surface.
Key points
The focus of shelving is on developing teamwork, but this exercise also brings out these useful training areas:
Communication
Continuous Improvement
Inter-team / Department
Leadership and Management
Performance Management
Planning
Problem Solving
Project Management
Teamwork
Time Management.
See a video of a team making this activity look easy (after planning, practice and working together as a team).
Display Shelf training game is also known as Planks, Gridlock and Shelving Exercise. Our version is made from plastic which is lighter and cleaner. This means that we have reduced the cost to buy and deliver the activity. Our trainers guide also gives you four variations of the activity to choose from.
Comments from Users of this Display Shelf Game
"Great value; we use it for many different training courses."
"Easy for the facilitator to use, but challenging with lots of learning for the users."
"I wish I found this game earlier it has so many uses."
Download a PDF file of this training game
Buy this training game and use it many times; or we will run it for you. Please contact us for more information.
Timing:
We provide details of 4 different ways to run this game; so it can last for 30 to 70 minutes + debrief.
Numbers:
4 to 8 participants for each game.
Who:
Staff at any level.
Computer:
Not required
Licence Free:
There are no restrictions on how many times you can use this game.
Cost to buy and facilitate yourself:
Large version £350 + delivery and VAT (if applicable).
Small version £280 + delivery and VAT (if applicable).
Bag to carry and store Shelving:
Large Display Shelf: £30.00 + delivery and VAT (if applicable).
Tabletop version comes complete with a plastic Docbox Boxfile.
Buy this game with:
Credit Card, Debit Card or PayPal – Click on the "Add to cart" button below or contact us over the phone
Bank Transfer (please contact us for details)
Cheque in Pounds Sterling made out to Elite Training European Ltd.
Select Add to Cart to buy the Large Display Shelf.

Select Add to Cart (below) to buy the bag to carry the Large Display Shelf. Price: £30.00 + delivery and VAT (if applicable).
Select Add to Cart (below) to buy the Small Tabletop Display Shelf. Price: £280.00 + delivery and VAT (if applicable).
Pay online with any of these cards and we will deliver the game(s) to you.

We can sometimes arrange for shorter or longer delivery times, which will increase or decrease the cost of delivery. If you would like alternative shipping costs or have questions about ordering, see our Ordering page or contact us.
We develop and sell a wide range of business games and training material. We also sell selected teamwork games produced by other top training companies that achieve excellent results in our training courses and events. This training activity like many of the business games we sell, allows you to build your collection of ready-made trainer-led activities or tailor your own training program. The activities are ideal for your training course, seminar or conference.
Expert advice to help you choose and use
With our business experience and expertise in training, we can help you choose the right training material or business game. Advice is free and there is no obligation to buy.
To see the other companies that have bought business simulation games from us and their feedback on our services please visit our >> Customers and Feedback Page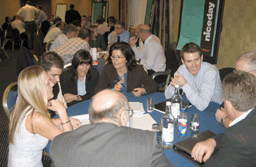 Prefer us to run the game? No problem
Over twenty years' experience in successfully organising and running business training events, enable us to design and deliver unique experiences that support you key messages, brand, culture and identity.
We will supply you with a dedicated and experienced Event Manager who will discuss what you want to achieve from running the game at your management conference, seminar or training course.
You can relax in the knowledge that we will make the game interesting, enjoyable and beneficial for you, your company and of course the participants.
Save time learning how to use a business game and let us run the game for you. This is not as expensive as you might think. Please contact us for more information or a no obligation quotation.
"The general feedback on our conference was 'one of the best yet!' I think that using starting the day with the Crime Squad really helped relax people into the day and I think they all found the Hotel exercise both challenging and rewarding and having you run the afternoon enabled us to see how the delegates actually worked together. Thanks to you and your team for helping make our conference a success.
The challenge for us is now to come up with something different for next year so any suggestions would be appreciated."

C. Garrett – Selwood
Download our Brochures