Colourshapes
Improve communication, interpersonal skills, problem solving and teamwork with our Colourshapes game. The popular effective communication training game is easily integrated into any training situation and used in any language.
There are 6 different shapes repeated in 5 different colours; a total of 30 quality laminated plastic cards.
Arrange the participants to sit in a circle facing outwards so they cannot see each other properly
Remove two of the cards and distribute the remainder to the participants
Participants may not show, exchange or pass the cards between group members
They do not know how many cards, shapes or colours the group has. Their objective is to establish this and the shape and colour of the missing cards
Observe the group interaction (participants learn by doing).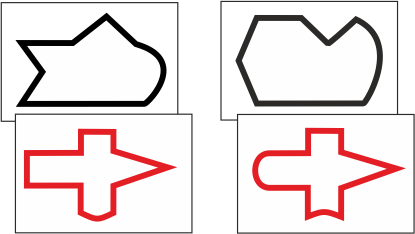 Look at these examples of the shapes and you can see the difference. But what if one person has the shapes on the left and someone else has the shapes on the right and they cannot see each other's shapes; can one person describe their shapes accurately for the other person to notice the difference in shape? The answer is usually no.
They often assume when one person describes their shape as having a round edge to the right, a flat bottom and a triangle edge on the left; it is the same as the shape they are holding.
They also assume when one describes another shape as a cross with a half circle at the bottom, it is the same as their shape. That is when they all hold the cards the same way round; often some people will hold their cards like playing cards (in portrait) and then the shapes look different again.
The game is even more complicated, because (they are not told this) there are six different shapes in five different colours. They have to identify what the shapes and colours are by describing what they have and listening to what the others to get the complete picture.
Enjoyable as well as educational, Colourshapes is the ideal communication skills game for training sessions about communication, interpersonal skills, teamwork, telephone techniques, problem solving, influencing, selling and negotiating.
Used by companies, organisations, schools and universities for training courses, seminars or conferences, colour shapes game is easy to play. It is also ideal as an ice-breaker or part of an assessment programme.
The art of communication
Communication plays a big part in many business activities. However, it is only successful when the information conveyed is clear and unambiguous. Messages which are open to misinterpretation can cause confusion, wasted effort and missed opportunities. 
Colorshapes game teaches good communication skills by replicating many of the issues that occur in the workplace; including:
assumptions
muddled thinking
conflict
poor listening skills
barriers to communication
lack of understanding and team cohesion.
See the bigger picture
If you have used the popular Coloublind team activity you will know of the benefits from using this training activity.
Unlike Colourblind, our Colour shapes game does not require participants to be blindfolded. In the workplace we use our eyes to help us describe what we are talking about. Colourshapes adds a visual dimension to the communication process.
While some teams strictly follow the rules, others will try to cheat by looking at their colleagues' cards. So honesty and trust in the workplace are other key learning points raised in this game.
The game addresses issues such as communication, teamwork, interpersonal skills, negotiation, perceptions, problem solving, planning, influencing, honesty, trust and many more. So be prepared for an informative debrief.
This training activity is easy to facilitate and also ideal as an ice-breaker or part of an assessment centre.
Benefits of the Colourshapes game:
Attractive, absorbing and challenging
Versatile enough to meet a wide range of learning objectives
Appropriate to any group with a shared language
Easily integrated into any training situation
Acts as an ice breaker and leads to greater understanding between group members
Colourshapes focuses upon individuals' understanding of their communication style and listening skills, and in particular develops the use of appropriate language
Creates a territory in which the group must devise a strategy for progress
Highlights the need for both effective team and individual skills
Sets guidelines for giving and receiving effective feedback
Colourshapes provides a fast route to powerful and transferable learning
Portable and simple to set up and administer
Ready to use and needing no additional equipment or facilities
Colourshapes is supplied with clear instructions and review suggestions.
Colourshapes training game is used to develop the following subjects:
communication skills
influencing
interpersonal skills
negotiating
problem solving
selling
teamwork
telephone techniques.

Download a PDF file of Colour Shapes training game.
Buy this game and use it many times; or we will run it for you. Please contact us for more information.
| | |
| --- | --- |
| Timing: | 15 to 40 minutes depending on the group + Debrief. |
| Numbers: | 4 to 28 participants (for each training activity) but most versatile with groups of 6 to 10 plus observers. |
| Who: | Staff at any level. |
| Computer: | Not required. |
| Licence Free: | There are no restrictions on how many times you can use this game. |
| Cost to buy and facilitate yourself: | £225 + delivery and VAT (if applicable). |
Buy this game with:
Credit Card, Debit Card or PayPal – Click on the "Add to cart" button below or contact us over the phone
Bank Transfer (please contact us for details)
Cheque in Pounds Sterling made out to Elite Training European Ltd.
Select Add to Cart to buy the Colourshapes - Training Game.