Colourblind II
Can a team identify the color and shape of these objects whilst wearing a blindfold? Fun game involving communication and problem solving.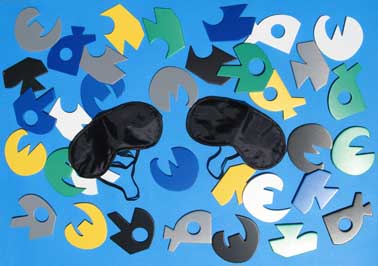 This 'advanced version' of the Colorblind I game provides a greater level of challenge than the original Colorblind for new groups, and those familiar with the process
Key points:
Requires more detailed descriptions
Needs more accurate discrimination between shapes and a greater capacity to hold and retrieve information.
Colorblind Is a challenging, entertaining and innovative exercise, portable enough to be carried in a briefcase, simple to set up in the smallest or most formal of training environments and with an enormous variety of applications.
This Colorblind set comprises 36 colored plastic shapes (compared to 30 with Colourblind I) and 12 eye masks for participants to be blindfolded.
How It Works
The trainer removes 2 of the colored plastic shapes and the remainder are spread out in front of the participants.
The objective of the exercise is for the group to establish the shape and color of the missing pieces.
Participants may not exchange or pass the pieces between group members
The question, "What color is this?" will be answered, correctly, as many times as it is asked. No other questions will be answered.
Benefits of the Colorblind game:
Acts as an ice breaker and leads to greater understanding between group members
Focuses upon individuals' understanding of their communication style and listening skills, and in particular develops the use of appropriate language
Colorblind creates a territory in which the group must devise a strategy for progress
Highlights the need for both effective team and individual skills
Sets guidelines for giving and receiving effective feedback
Colorblind provides a fast route to powerful and transferable learning
Attractive, absorbing and challenging
Versatile enough to meet a wide range of learning objectives
Appropriate to any group with a shared language
Easily integrated into any training situation.
Portable and simple to set up and administer
Ready to use and needing no additional equipment or facilities
Colorblind is supplied with clear instructions and review suggestions.
The Colourblind game is used Internationally by trainers and teachers, who have realised its potential to:
produce cost and time effective results
generate a high level of focussed debate
give access to learning about a broad range of organisational issues
engage individuals in their continuing development
add a dynamic and creative dimension to any training repertoire.
Main Concept:
Colorblind II is a problem-solving exercise designed to illustrate how individuals make sense of situations by drawing on their previous experience and knowledge, and how they attempt to convey to others their understanding of these situations. Colorblind II seeks to establish and emphasise common meanings, by drawing upon spoken language as its primary learning tool.
This exercise, the second 'Colorblind', provides a greater level of challenge than the original; specifically designed for more able groups or those who wish to test the application of skills acquired in Colorblind I. Colorblind II requires more detailed descriptions, more accurate dissemination and a greater capacity to hold and retrieve important information. In short, it is a more demanding exercise – letting groups delve deeper into communication strategy – that complements and advances the skills developed in Colorblind I.
More specifically Colorblind II:
Develops application of principles and skills acquired in Colorblind I (communication, team work, interdependency etc)
Can be used to identify language and communication difficulties within an organisation
Explores the process of applying learning from one experience to another
Can developed a common mode of communication within diverse groups, and often multi-cultural and multi-lingual teams
Identifies the need for organisational change and understanding
Further develops the notion of interdependency
Highlights the need for both effective team and individual skills
Color Blind sets guidelines for giving and receiving effective feedback.
Other skills Colorblind II develops include: team management, verbal communication and coaching/instruction skills.
We apologise for the changes of spelling of Colourblind on this page. The original name for this game is Colourblind, but it is also Internationally known as Colorblind, Color blind, Colour blind. By using all these names on this page we hope to keep all users of this blindfold games happy!

Download a PDF file of the Colorblind II training game
Buy this game and use it many times; or we will run it for you. Please contact us for more information.
| | |
| --- | --- |
| Timing: | 20 to 40 minutes depending on the group + debrief. |
| Numbers: | 4 to 12 delegates (for each training activity). |
| Who: | Staff at any level. |
| Computer: | Not required. |
| Licence Free: | There are no restrictions on how many times you can use this game. |
| Cost to buy and facilitate yourself: | £299 + delivery and VAT (if applicable). |
Buy this game with:
Credit Card, Debit Card or PayPal – Click on the "Add to cart" button below or contact us over the phone
Bank Transfer (please contact us for details)
Cheque in Pounds Sterling made out to Elite Training European Ltd.
Select Add to Cart to buy the Colourblind II game.