Dealing with Difficult People
Our hands-on activities will enable you to deal with all sorts of difficult people
Most of us have to deal with difficult people at some time or other. They always want their own way and are prepared to shout and lay down the law until they get it. They have the ability to waste a lot of your time and make you angry or frustrated. The stress of handling difficult people can create a lack of productivity and reluctance to come to work.
Dealing with difficult people is something many people face as part of their everyday work life. Through hands-on activities and practice exercises, delegates learn how to deal with all sorts of difficult people for example:
The 'Complainer'

The 'Downer'

'Back Stabber'

Take pride in criticism and are sarcastic and devious.
Feel they're life's victim. They are pessimists and negative.
They stab you with putdowns & pretend they have done nothing.
 

The 'Soothing Delayer'

'Egotistical Advisor'

'The Clam'

Dislike committing themselves. They tend to be agreeable – yet they still don't move ahead.
Appear as if they know a lot about the subject, but will find someone else to blame for their mistakes.
Are difficult to get talking. They often use "I don't know" and similar phrases.
Whether they are a customer, an employee, boss or even a colleague; they can he hard to handle. But eventually, you will need to stand your ground, but how?
On our Dealing with Difficult People Course we will show you the types of difficult people and how you can handle them. Lets look at one example: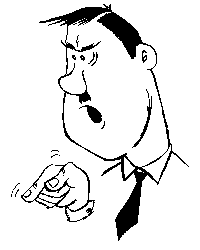 'Autocratic Aggressor'
Characteristics:
Intimidate – They stay in control by putting others down
Controlling – They rule from a 'command post'
Temper – They are quick to anger and are often unpredictable
Rigid – They don't like ambiguity or changes they did not initiate
Judgmental – They are unwilling to listen to opinion that conflict with their own
How To Handle An Autocratic Aggressor:
Remember – they have nothing against you personally – their attitude is purely selfish.
Listen to everything the person has to say.
Hold your ground. This doesn't mean attack – but stand up for yourself and your ideas.
Don't give in to their anger.
Wait until the worst is over – when the aggressor is loud and out of control is not the time to try to win your point.
Watch their ego – remember the aggressor's self image is on the line. They won't be open to you until you acknowledge their ego.
Avoid argument – don't throw disagreement in their face.
Be formal, calling the person by name.
Get their attention. If they still brush your statements aside, ask them to stop and listen to you. Put your hand up to draw their attention. Say something like "Just wait a minute, there's something I think you should hear."
Be concise and clear with your reactions
We will help you deal with these and other types of difficult people.
Who will benefit: Suitable for all staff.
Duration: 1 day
By the end of the Dealing with Difficult People training course delegates will be able to…
understand what makes different people difficult
recognise the early warning signals and prevent the behaviour escalating
avoid being manipulated by difficult people
feel confident to deal with a number of different types of difficult people
apply conflict resolution techniques
use words that de-escalate and give criticism effectively
apply assertive behaviour and see instant results.
Testimonials from our Dealing with Difficult People training course
"Thank you again for the 'Dealing with Difficult People' training you delivered at Gretton House. I know from feedback I have received, both on evaluation sheets and verbally, that everyone found the course really helpful and very interesting. I am sure this will help when dealing with both staff and customers."
C. Corstin – Gretton Homes
"The seminar was very good, well explained by an approachable tutor. I thoroughly enjoyed it."
M. Waller – Life Skills Solutions
"Excellent course, my interest was kept to the last minute."
J. Sutherland – Rainbow International
About us
Elite Training European Limited is a leading UK provider of Dealing with Difficult People training courses.
For over 20 years, we have been delivering excellent management training and personal development skills to businesses and public sector organisations in London and the South East, East Anglia and across the UK. Based in Suffolk means we are within easy travelling distance of Buckinghamshire, Cambridgeshire, Essex, London, Hertfordshire, Kent, Norfolk, Northamptonshire, Surrey and Sussex. We will also arrange a course anywhere in the UK or Europe.
Our courses involve experiential learning with the use of business games and training materials. These activities help participants acquire essential knowledge and skills through active, self-reflective engagement and enable them to remember the key learning points - "What I hear, I forget; what I see, I remember; but what I do, I understand." Confucius 451 BC
In-House Training Courses
Our In-House business training courses mean that we travel to you and save your travel time and costs.
Choose a time and date suitable for you and our high-level tutors with up-to-date, practical experience in this course, will tailor a course to meet your needs.
We guarantee you will enjoy the Dealing with Difficult People training course and see the benefits for the participants and your organisation.
Personalised training at an affordable price
We are busy running In-House business training courses, so we do not offer open courses for people from different companies or organisations to attend. However, we offer training courses for one or two participants, which has the flexibility to vary pace and depth of study. These are not as expensive as you might think!
To see why other companies choose us, and for examples of costs, availability, course trainers, etc., please visit our >> Home Page or Customers and Feedback Page