Customer Service

Training
Appreciate the benefits of customer service and get more from your staff and business
Your customer service course delegates will learn to…
identify the impact and importance of effective customer service
differentiate between the product / service supplied and customer relations
recognise their contribution to the organisation's success
develop the perception to put themselves in the customer's shoes
recognise customers' wants and expectations
recognise the affect attitude has on the behaviour of others
apply effective communications and assertiveness
competently deal with complaints and difficult customers
understand the current climate of business etiquette
take responsibility for new objectives to delight customers
Great customer service is critical to your business. Keeping customers satisfied, needs to be the goal of everyone in the organisation.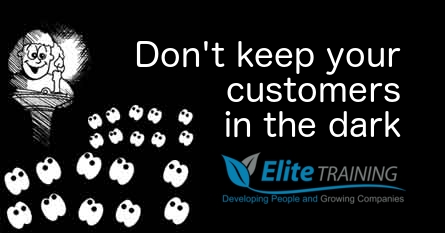 A patient does not want to hear that their symptoms are their own fault and nothing can be done (even if the patient caused the problem). Customers are the same: A vital ingredient of any lasting customer service programme is an emphasis on identifying creative and innovative solutions to give your customers what they want … on time, every time … at the right cost.
Coping with awkward and complaining customers effectively, whether they are ratepayers, disgruntled passengers, or irate account customers, marks out professional customer service.
It is important to also appreciate internal customers, who need the same care and understanding as external customers.
Just one person can mar a customer's perception. Our customer service training will enable your staff to appreciate the benefits of effective customer service.
"The bitterness of poor quality lingers long after the sweetness of a cheap price has disappeared."

Anon.
How it works:
We discuss the customer services you provide and training areas you would like covered, then tailor the course to meet your needs.
With our easy-to-learn techniques and exercises, participants show empathy, provide solutions and deliver effective customer service.
The course workbook is a valuable reference, covering all aspects of the course, packed with ideas, tips and practical examples. Our course delivery is interactive and depending on your needs, includes feedback on delegates' letters, telephone technique exercises and face-to-face customer scenarios. Organisations also usually opt to learn through one of our customer services business games, for example Customer Service Decisions, Pipeline and Running your Business for a Profit.

Download example customer service workbook sections - We tailor materials to meet your needs
Who will benefit:
All staff. Some companies opt for managers to attend separately.
Duration: 1 or 2 days
Testimonials from our Customer Service training course:
"Reminded to see both sides of the situation, instead of prejudging as I think I see a situation."
"Excellent, loved the stories and scenarios, and the different models to use in handling conflict."
"Thoroughly enjoyed both days, will be very helpful during my current role."
Customers who viewed this course, also bought:
About us
For over 15 years, we have been delivering excellent management training and personal development skills to businesses and public sector organisations in London and the South East, East Anglia and across the UK. Based in Suffolk means we are within easy travelling distance of Buckinghamshire, Cambridgeshire, Essex, London, Hertfordshire, Kent, Norfolk, Northamptonshire, Surrey and Sussex. We will also arrange a course anywhere in the UK or Europe.
Our courses involve experiential learning with the use of business games and training materials. These activities help participants acquire essential knowledge and skills through active, self-reflective engagement and enable them to remember the key learning points - "What I hear, I forget; what I see, I remember; but what I do, I understand." Confucius 451 BC
In-House Training Courses
Our In-House business training courses mean that we travel to you and save your travel time and costs.
Choose a time and date suitable for you and our high-level tutors with up-to-date, practical experience in this course, will tailor a course to meet your needs.
We guarantee you will enjoy the Customer Service training course and see the benefits for the participants and your organisation.
Personalised training at an affordable price
We are busy running In-House business training courses, so we do not offer open courses for people from different companies or organisations to attend. However, we offer training courses for one or two participants, which has the flexibility to vary pace and depth of study. These are not as expensive as you might think!
To see why other companies choose us, and for examples of costs, availability, course trainers, etc., please visit our >> Home Page or Customers and Feedback Page