Safari Park Sales Game
Our sales games enable participants to learn all elements of the sales process and practice their sales skills. This unique sales training game prepares buyers and sellers for the real world of sales; hey, it's a jungle out there!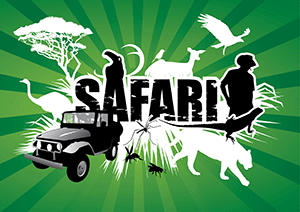 The Safari Park Sales Challenge game is the ideal sales activity for an advanced sales training course, seminar or conference.  It provides a challenge for their sales skills and helps to develop their planning and forecasting skills.
This exciting sales game enables participants to practice:
turning features and attributes into benefits
the often complex needs of buyers
planning and forecasting
negotiating around needs
when to make concessions
awareness of the buyer and buying signals
when and how to close the sale.
Teams of Buyers and Sellers receive briefing sheets which explain their situations and targets. There are also constraints: Buyers have limited funds and space to house the animals for their safari park; Sellers have to find the best home for the animals that they represent.
Buyers receive a Park Composition Sheet to help them plan their ideal Safari Park. They are free to create whatever park they desire, but it must be an interesting, exciting and self-sustaining park with adequately housed and well cared for animals.
They must also ensure they treat the animal well and as far as possible live in their natural surroundings. They must actively support conservation of threatened species and habitats, locally, nationally and internationally. They must also facilitate and initiate research that contributes to species conservation and the welfare of animals in their care.
Sellers have to look at the needs of the sellers, then the features and attributes of the animals they represent and develop them into benefits for the Safari Park. They are free to choose how they sell and whether they try to sell both types of animal that they represent.
Buyers and Sellers meet face-to-face three times: to develop understanding and to sell and buy animals which will help to create a fun, interesting and successful Safari Park.
This sales training game is an ideal way to either bring together all the points taught in a longer sales training course or to introduce all elements of the sales cycle to those new to selling. It also is a great sales training activity for the more experiences salesperson; to refresh those sales skills and remind salespeople of all the elements of sales that they now use every day.
After all the sales meetings buyers and sellers can reflect; not only on their individual performance, but on whether they have built an interesting and sustainable Safari Park.
The Park Composition Sheet is then used as a structure for the debrief.
This Sales Game enables participants to learn the following through experience:
understanding your products and your marketplace
pre-meeting preparation
developing rapport
questioning skills
establishing customer needs
overcoming objections
closing the sale.

Trainer's Role
Introduce the activity
Divide the group into teams of Buyers and Sellers
Issue Team Briefs and Preparation Forms
Allow participants to select the animals that they will represent
Oversee the meetings, observing the teams in action
Record sales made and agreements reached
Offer animals from charities to further stock the Safari Park
Lead a debrief on the issues raised, relate back to the workplace and remind participants of the key learning points.
Full details are provided in the Trainer's Notes.
Comments from Users of this Sales Game
"We used Safari Challenge at one of our internal workshops for our business teams. The simulation was well appreciated.
We did make some minor modifications and ran it in a multi team format with teams competing for highest profit. During the de-brief we were able to bring out learnings associated with team selection (choice of animals), sales strategy, selling style, ownership, planning and profit orientation - both transnational and long term. Also unsold animals brought out cost of holding inventory thus hitting profits."

Vikrant Chawla - NIS Sparta

Download a PDF file of this Sales Game
Buy this activity and use it many times; or we will run it for you. Please contact us for more information.
| | |
| --- | --- |
| Timing: | 2.5 to 4 hours (depending on the number of participants). |
| Numbers: | 3 to 27 participants for each game. |
| Who: | Staff with a good knowledge of selling who will benefit from going to the next level of selling. |
| Computer: | Not required, although a spreadsheet is available if required. |
| Licence Free: | There are no restrictions on how many times you can use this game. |
| Cost to buy and facilitate yourself: | £495 + delivery and VAT (if applicable). |
Buy this game with:
Credit Card, Debit Card or PayPal – Click on the "Add to cart" button below or contact us over the phone
Bank Transfer (please contact us for details)
Cheque in Pounds Sterling made out to Elite Training European Ltd.
Select Add to Cart to buy the Safari Park Sales Game.