Team Acting
Bring out the creativity from your team with a fun team building event involving acting on stage.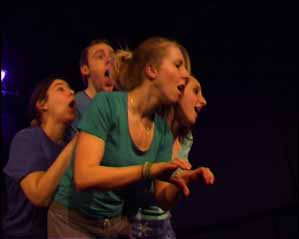 Are you organising a fun team building event and want to reward your team with something "different"?
Our professional actors provide theatre-based training for a memorable session, which will enthuse and inspire your team.
Creating a piece of theatre from scratch is very satisfying, enjoyable experience and provides a team with a strong sense of identity and achievement. We will facilitate this process.
"The session was very entertaining and raised some valuable and important issues within the team."HM Treasury Team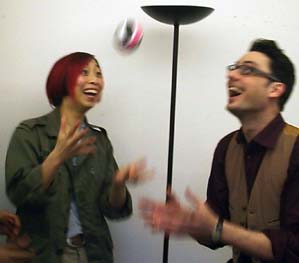 We start with teambuilding games and exercises to enable group members to be on the same creative wavelength.
The games and exercises are used as strong, clear metaphors for issues that arise when working together.
Delegates then create material in ways that will draw on their strengths. For example, through writing, drawing or improvisations.
Delegates then rehearse a short piece, which will be performed at the end of the session.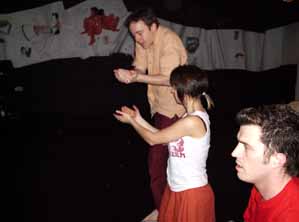 Through exercises, mainly borrowed from physical theatre, delegates work together on their feet, exploring different ways of communicating and stretching their creative minds.
Delegates will engage both mind and body as they take part in ensemble exercises where active listening is essential.
By sharing the challenge of taking part in a new activity and the laughter that will inevitably accompany the exercises will provide a fast way for delegates to gel.
"The combination of arts-based training with a formal session in the afternoon worked very well."London Borough of Brent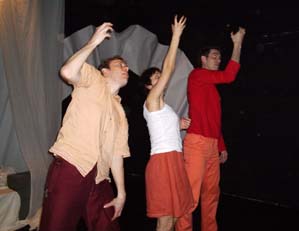 If your event involves delegates who do not regularly work together our activities can provide an enjoyable, dynamic ice-breaker to get them to know each other.
If the team has over 12 people we will assess the suitability of splitting up into smaller groups to create a mini festival.
The flexibility of this team building activity enables us to stage it anywhere in the UK where you will stage your teambuilding event or business conference.
Our theatre-based training can take the shape of:
A role play to bring out key points for your training
An ice-breaker activity for your conference
A challenging activity focused on the creation of a short performance.
"Being surprised by the extent of our own imaginations and seeing everyone in a different light allowed us to discover the enormous potential of our team."

Suzy Lamplugh Trust
Location and Duration
For over 20 years, we have been delivering excellent team building activities to businesses and public sector organisations in London and the South East, East Anglia and across the UK. Based in Suffolk means we are within easy travelling distance of Buckinghamshire, Cambridgeshire, Essex, London, Hertfordshire, Kent, Norfolk, Northamptonshire, Surrey and Sussex. We will also arrange Team Building Games anywhere in the UK or Europe.
If you are organising a conference, seminar or training event we can run a team acting event to meet your needs. Just tell us: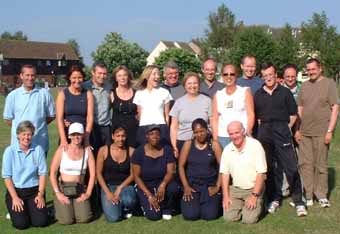 The learning objectives for your team event
Number of delegates
Time for the activity and debrief
Venue logistics
We will do the rest – planning the event for you and supplying skilled trainers to ensure you get the outcome you are looking for.
"I just wanted to drop you a line to say a BIG thank you for a wonderful day, professionally organised by yourself and your staff. All members of staff enjoyed the day and found it very rewarding."

J. Coglan – ELSBC
To see the other companies that have bought business games from us and their feedback on our services please visit our >> Customers and Feedback Page
For more information, please contact us.
Download our Brochures