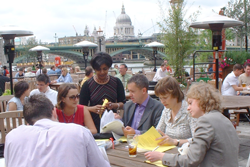 Team building activities London for a great away day.
Our team building activities features the best of London's unique history combined with a great team experience.
We liaise with you to tailor the event to meet your needs. This ensures that your group has a great time discovering a new level of understanding which they can then carry forward for the benefit of your company.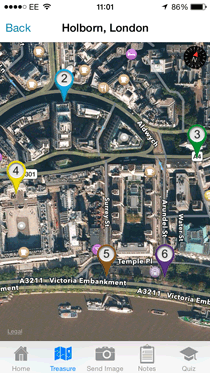 The business world requires more than a treasure hunt, so we have combined it with a scavenger hunt which rewards good teamwork and needs many of the skills necessary to succeed in business and in life.
We have developed an app that works on smartphones and tablets to create an event that requires teams to find the answers to interesting questions about your chosen location. We can also bespoke a twist to your event by creating your own clues, challenges, questions and company branding to reinforce company values or conference messages.
How it works
Participants load out app on their smartphones and working in teams they need to decide on the most efficient route to find the numbered location checkpoints shown on the app. Here they will find the answers to questions about the area. It is not possible to cheat because the GPS on the app recognises their position and will only provide the answer when they are within 50 metres of the specified location.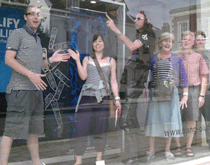 In addition to finding various interesting locations, teams can be given a list of challenges to complete. These include:
Get around the route in the shortest distance
Answer questions to the quiz on the app
Take photos of the team achieving creative tasks
Find the listed items
Solve a crime
Complete challenging tasks
Solve creative tasks and brain teasers.
Teams are awarded points for each activity and the one with the most points wins.
Participants use their smartphones to navigate the hunt area and take pictures. This team building activity is a lot of fun and an excellent way to get to know a city or resort location.
The flexibility of our events will allow any number of specific team building requirements to be highlighted and tailored into the event.
Our Team Building Activities London event:
Can be run at any time of year
At a location in London suitable for you
Ideal for small and large groups
Not a race to finish first, so it does not challenge a group's fitness level
Little time and effort required by you – tell us what you want and we will arrange it
Lasts for 2 to 3 hours or a full day when combined with our Team Challenges.
When teams have completed the Team Building Activities, we can provide refreshments to suit your needs. We then present the results and award prizes or medals.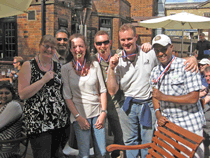 If you are organising a conference, seminar or training event we can run a teambuilding activity to meet your needs. Just tell us:
The learning objectives for your team event
Number of delegates
Time for the activity and debrief
Venue logistics.
We will do the rest – planning the team building activities for you and supplying skilled trainers to ensure you get the outcome you are looking for.
"We have used Elite Training in the past for a smaller event and had a good experience with them so we were more than happy to choose them again for the larger event held this year. We found Elite, on the previous event and this event, to be very organised from the initial booking to arrival on the day. They supplied enough staff and equipment to ensure all tasks ran smoothly and the day was enjoyed by all with appreciation being shown from our Finance Director who was the owner of this specific Away Day."

N. Ford – NATS
To see the other companies that have bought business games from us and their feedback on our services please visit our >> Customers and Feedback Page
For more information, please contact us.
Download our Brochures