Electric Fence
Simple to run, fun icebreaker game focusing on Support, Trust, Communication, Planning, Problem Solving. Another of our popular team building activities.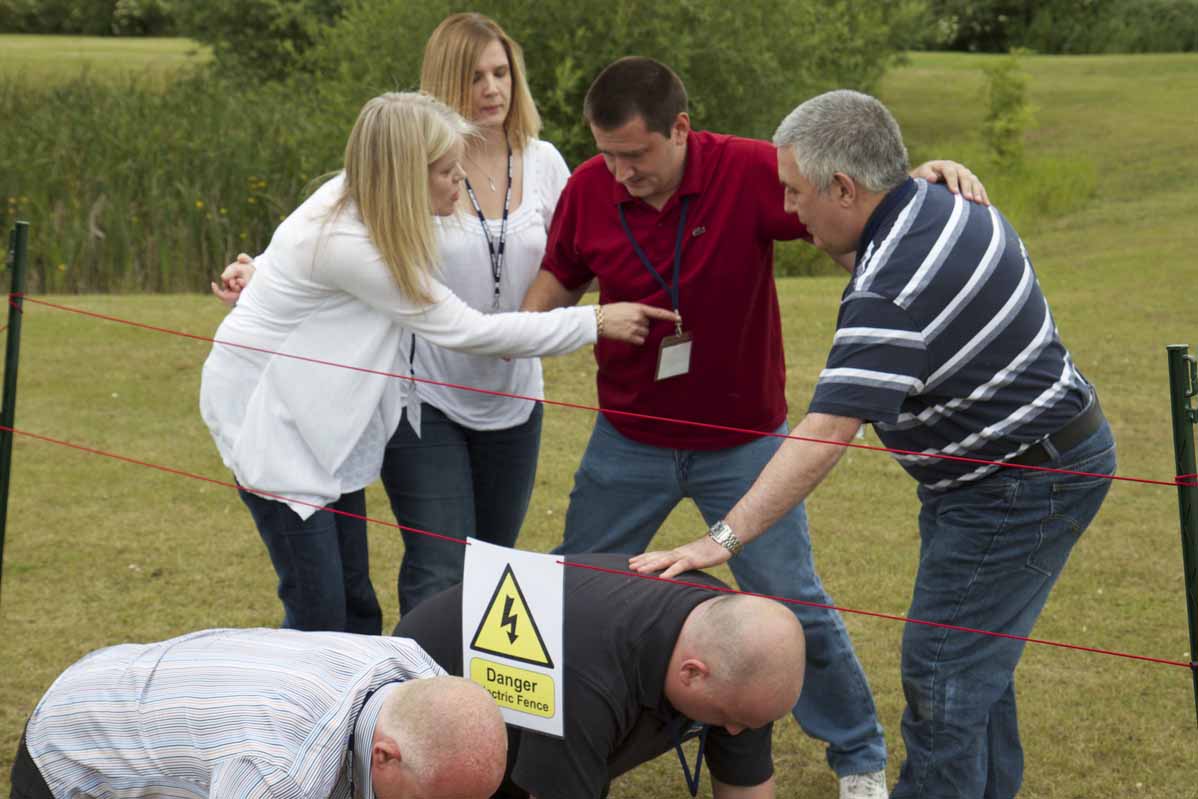 Team members must trust and support each other to get over the electric fence without anyone touching it.
Can the group keep calm, work together? They must also solve the problem and given the clock is ticking and anyone that touches the fence could get their fingers burnt!
There are many safety issues the team need to consider and it is not as easy as people often imagine. The challenge can also be made more difficult by making the "electric fence" higher.
This game is designed to develop
support and trust
communication
safety awareness
problem solving and planning
team building.
 
Benefits of the icebreaker game
Integrates into any training situation
Run this game indoors or outside
Acts as an icebreaker and leads to greater understanding between group members
Adaptable to any language - the facilitator can brief the group from easily transferable briefing notes
Simple to set up and administer with clear instructions and Trainer's Guide with debrief suggestions
Brings out key issues such as Communication, Safety Awareness, Planning, Support, Trust, Teamwork and Leadership.
Comments from Users of the Electric Fence support game
"We quickly got into the task and didn't consider all the options for solving; a big lesson."
"Because it was fun to do; in our excitement we nearly forgot the important safety issues."
"We didn't really know each other at the beginning of this, so it quickly got us working together and we had to trust each other or we would not have achieved it."

The Icebreaker Game Includes:
2 Electric Fence Posts for indoor and outdoor use
"Electric" expanding ropes for easy construction
2 Pegs to secure the posts when used on grass
Danger Electric Fence Sign
Laminated Team Sheet
Trainer's Guide.
 

Download a PDF file of The Electric Fence Icebreaker Game
Buy this game and use it many times; or we will run it for you. Please contact us for more information.
| | |
| --- | --- |
| Timing: | Between 10 and 20 minutes + debrief. |
| Numbers: | 5 to 12 participants (for each training activity) |
| Who: | This support game is ideal for any level of participant. |
| Computer: | Not required. |
| Licence Free: | There are no restrictions on how many times you can use this icebreaker and support game. |
| Cost to buy and facilitate yourself: | £175 + delivery and VAT (if applicable). |
Buy this game with:
Credit Card, Debit Card or PayPal – Click on the "Add to cart" button below or contact us over the phone
Bank Transfer (please contact us for details)
Cheque in Pounds Sterling made out to Elite Training European Ltd.
Select Add to Cart to buy the Electric Fence game.