Minefield
Taking risks, problem solving, communication, learning from mistakes and leadership are all covered in this fun and challenging minefield game.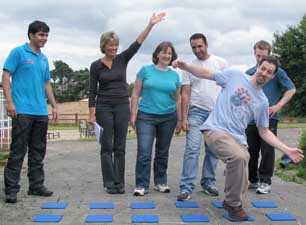 Stepping into the unknown is necessary for any team to grow and move ahead, but how will your team perform?
Will they take risks?
Do they consider all the options?
What happens when the unexpected occurs?
Do they learn from their mistakes?
What is the leader's role?
Did each team member fully understand the task?
Do they support and encourage each other?
How do they deal with feedback?
These and many other important issues are revealed in the mine field game.
A Minefield area has been marked into areas to help teams identify a safe way of getting to the other side. But there are no markers on the areas to show which ones are safe.
The mines are voice activated so they are not allowed to talk to each other; but effective teams find other ways of communicating!
If they step on a mine, they will get a sound warning them to get off it quickly. If they step on it again, they will hear an explosion which will be treated as if they have killed all the team members!
When a team member gets a warning from an activated mine, they must leave the minefield by the safe route they have discovered and the next team member has a go at finding a safe route.
So which way should they go? Unfortunately, they have no writing material to record the steps they have taken and the mines are also voice activated so they cannot talk to each other so they must find other forms of communication.
It is easy to begin with but it soon gets exciting as their options get restricted and time is running out. They must learn where the mines are and help each other to find the way through the minefield.
It is useful to note how they react to the "penalties" for stepping on the mined areas – do they see them as mistakes or valuable feedback? Also, do the team encourage risk taking and if so how did they manage it?
The debrief brings out many key points about the way the team performed and how they can use the learning points in the workplace.
It soon gets teams working together and is an ideal icebreaker.
The mine field game consists of:
42 slip resistant black mats, to form the minefield area
a "noise" devise which you can select to make an explosion sound or 13 other sounds
facilitator's guide, participant briefs and review sheets
options to bring out different learning aspects.

Download a PDF file of the minefield game
Buy this game and use it many times; or we will run it for you. Please contact us for more information.
| | |
| --- | --- |
| Timing: | 15 to 30 minutes depending on your desired outcomes + debrief. |
| Numbers: | 1 team with 3 to 8 participants in a team (for each game). |
| Who: | Staff at any level. |
| Computer: | Not required. |
| Licence Free: | There are no restrictions on how many times you can use this game. |
| Cost to buy and facilitate yourself: | £250 + delivery and VAT (if applicable). |
Buy this game with:
Credit Card, Debit Card or PayPal – Click on the "Add to cart" button below or contact us over the phone
Bank Transfer (please contact us for details)
Cheque in Pounds Sterling made out to Elite Training European Ltd.
Select Add to Cart to buy the Minefield Game.