Helium Stick
Simple to run, but a powerful icebreaker from our range of training resources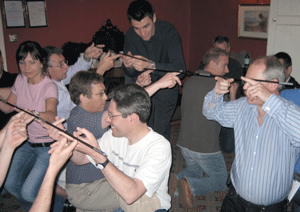 This training resource works well:
as an icebreaker to make key learning points
with limited time and as a fun pick-me-up
for conference breakout sessions
for indoor or outdoor use.
The Process
The team's briefing sheet tells them they must form two lines, facing one other and support the Helium Stick on their index fingers. They must not allow the stick to come apart as they try to lower it to the ground.
This sounds easy for the team to achieve, but they will soon discover it isn't.
Typically the Helium Stick goes up rather than down, until the team organise themselves. (There is no helium in the stick; it is the way the team works that makes the stick rise or fall.)
This game mirrors the business dynamic of projects starting out well, but quickly going awry. Why is that? Sometimes even the best plans do not work. What you do as a team when plans go awry has everything to do with teamwork, trust and communication. Teams come away from this activity with a deeper understanding of how they work best together.

The Icebreaker Game Includes:
6 'Helium Sticks' joined by an elastic cord to make a 3 metre long stick
Laminated Trainer's Guide
Laminated Team Sheet.
Benefits of the game
Brings out key issues such as Teamwork, Leadership, Communication and Focusing on goals
Acts as an icebreaker and leads to greater understanding between group members
Creates a territory in which the group must devise a strategy for progress
Absorbing and challenging
The facilitator can brief the group so it can be used in any language
Integrates into any training situation
Small and easy to transport
Simple to set up and administer with clear instructions and Trainer's Guide with review suggestions.
Helium Stick is ready to use and needing no additional equipment or facilities

Download a PDF file of the Helium Stick Icebreaker Game
Buy this game and use it many times; or we will run it for you. Please contact us for more information.
| | |
| --- | --- |
| Timing: | Between 2 and 20 minutes + debrief. |
| Numbers: | 5 to 20 participants (for each training activity) |
| Who: | This game is ideal for any level of participant. |
| Computer: | Not required. |
| Licence Free: | There are no restrictions on how many times you can use this icebreaker game. |
| Cost to buy and facilitate yourself: | £125 + delivery and VAT (if applicable). |
Buy this game with:
Credit Card, Debit Card or PayPal – Click on the "Add to cart" button below or contact us over the phone
Bank Transfer (please contact us for details)
Cheque in Pounds Sterling made out to Elite Training European Ltd.
 Select Add to Cart to buy the Helium Stick game.