Roller Coaster Ball Game
Roller Coaster Ball Training Game requiring cooperation, planning, trust, creativity and teamwork.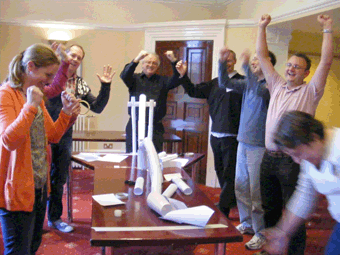 A fun training game that demonstrates that open communication, effective listening skills, planning and trust are the key to teams working well with one other.
Teams have limited time to plan and construct a Roller Coaster which will allow a Ping-Pong ball to be dropped in at one end and travel to the other end by gravity alone!
How it works
This game can be run many different ways. Here are some examples:
30-Minute Team Challenge
One or more teams compete against the clock (and/or one another) to construct and test the Roller Coaster in 30 minutes.
This may sound easy, but the instructions require teams to construct the roller coaster complying with specifications that need creativity and planning. The time limit also adds pressure more tension!
There is also the option of requiring teams to 'hire' the material to complete the task. Can they achieve it by spending less than other teams?
30-Minute Time Trial
Two or more teams each build a Roller Coaster, but they need careful planning and cooperation because each construction is timed to meet a tight schedule. All will be revealed in the Trainer's Notes and Team Sheets.
50-Minute Team Cooperation
Three teams work in different areas or in their own syndicate rooms, where they construct a different part of the Roller Coaster. After 45 minutes, bring the three teams together to assemble the three part Roller Coaster. Do they fit together and do the job as instructed?
What it does
Roller Coaster Ball is a highly energetic and practical activity that energises any course or training event. When the teams meet at the end there is high tension – and then euphoria when the ball completes its course! Demonstrates that open communication and trust is the key to project teams working well with one another.
The focuses of the game
Team cooperation or competition
Planning
Costs and efficiency
Creativity
Managing meetings
Time management
Effective teamwork
Communication
Celebration of success.
Materials Provided with the game
Trainer's Guide
Team Briefing Sheets for different ways of running the game
Team Hire Costs
10 Sheets of A4 card x 3
20 Sheets of A4 paper x 3
20 Elastic bands x 3
20 Paperclips x 3
Scissors x 3
Clear tape x 3
Ping-Pong balls x 3
Rulers x 3
Comments from users of this fun training game
"Brilliant; challenging and fun. Roller Coaster is a great learning tool"
"Easy to use for so many purposes including an icebreaker, teamwork and communication. It always brings out many learning points."
"I wish I knew about Roller Coaster Ball earlier; it has helped to develop teams quickly."

Download a PDF file of this training game
Buy this game and use it many times; or we will run it for you. Please contact us for more information.
| | |
| --- | --- |
| Timing: | Roller Coaster Ball lasts for 30 to 50 minutes + debrief. |
| Numbers: | 3 to 21 (1 to 3 teams of 3 to 7 per team) for each game. |
| Who: | Staff at any level. |
| PC required: | None. |
| Licence Free: | There are no restrictions on how many times you can use this game. |
| Cost to buy and facilitate yourself: | £350 + delivery and VAT (if applicable). |
Buy this game with:
Credit Card, Debit Card or PayPal – Click on the "Add to cart" button below or contact us over the phone
Bank Transfer (please contact us for details)
Cheque in Pounds Sterling made out to Elite Training European Ltd.
Buy the Roller Coaster Ball game. Price: £350.00 + delivery and VAT (if applicable)